Content is the king of today's marketing environment. The most successful brands in the world have developed detailed content strategies that help them inspire, entertain, and educate their target audiences. At Yuvaan Technologies, we specialize in helping our clients plan, produce, and promote content that drives audience engagement and conversions. Our full suite of content services includes:
Digital Content Strategy
Content Production (Blogs, Images)
Video Production
Graphic Design
Multi-language Content
Logo Designing
Digital Content
Logo is designed for brand identity.
We design highly engaging and visually
appealing graphics and animations in order to attract traffic to our websites
Flayers, Brochure, Business Cards, Letters,
Promotions, Emails, Invitations & Video
Content writing/Video design/Graphic
design is done in order to boost the brand and generate organic customers
BRAND DESIGN SERVICE IN DETAIL
Yuvaan Technologies is a graphic design provider in India, offering brand design services to global clients. If you are looking for brand design services to help you successfully engage with your customers and create new opportunities, consider Yuvaan Technologies. At Yuvaan Technologies, we create unique brand designs that effectively communicate your message to target audiences. From signage and banners, to flyers and ads, we aid with all types of brand identity design needs.
Whether you require brand design services to increase exposure to your business, reinforce your position in the industry, indirectly drive demand for your products and services, garner attention from prospective buyers, or build trust between you and your customers, we can assist.
Yuvaan Technologies's Brand Design Services
At YT, we create brand designs that build a powerful connection between your products/services and your customers. Over the past two decades we have assisted 1,000+ clients.
Given below are some of the brand design services we offer –
Business Logo Design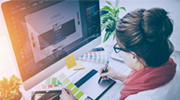 We provide custom logo designs for corporate offices, small, medium and large businesses, e-commerce companies and more. Our qualified in-house designers professionally create logos for online and print usage that make your brand stand out from your competitors.
Business Card Design
At O2I, we help you succinty build your customer database with unique business card designs. Partner with our creative team and design business cards that uphold your brand value, make an excellent first impression, and facilitate customer onboarding.
Brochure Design
At O2I we assist with unique brand identity designs for corporate pamphlets, product brochures, travel brochures, etc. that align with your branding purpose. With our branding services, you can avail customized brochures for targeting qualified audience.
Flyer Design
Our stunning flyer designs help radiate your brand intent and influence the buying decisions of potential buyers. Whether your require flyers for use at airports, trade shows, corporate events, or hotel receptions, we can aid you with A3, A4, A5, DL size flyers.
Banner Design
With O2I you can promote your brand and message effectively across a range of mediums. We offer original banner designs that perfectly convey your company's objective. Right from corporate banners to online ad banners, we provide you with a wide array of professionally designed banners that communicate your message effectively.
Menu Design
At O2I, we help you create menu designs that are unique and impressive, distinctly promote your brand and differentiate your brand from the rest. Unique and creative artwork, accurate formatting and exceptional typography govern our menu designs.
Product Branding Design
We offer innovative product branding designs that promote a brand effectively – perfect designs that make your target audience feel instantly connected with your brand. Hike product sales with effective product labels and packaging that speaks volumes to your audience.
Brand Design Audit
We review your existing company branding design strategies and help you evaluate your design options by investigating whether the brand design developed and implemented is getting the desired results. We help you modify your brand designs for better results.